How to get cheap leads from LinkedIn via Facebook ads
LinkedIn ads are so expensive that it makes them unusable for most B2B businesses. Yet, we can combine the precision of LinkedIn targeting with relatively cheap clicks we can get on Facebook. This post explains how to do it step by step. This tactic is golden for most B2B businesses. Some B2C businesses also might find this useful.
If you prefer watching over reading.
This article is also available as a YouTube video
Why LinkedIn ads are unusable for most B2B businesses
Let's consider an example. You're running a marketing agency and need more clients. LinkedIn allows you to find high quality prospects via searching for relevant job titles (e.g. Head of Marketing, CMO, etc). In theory LinkedIn ads should be a great channel for your lead generation efforts. In fact not only the cost per click is high but also the conversion rate of LinkedIn traffic is low . As a result cost per lead usually ranges from several hundreds to a few thousands of dollars. This makes LinkedIn ads way too expensive for the majority of B2B businesses.
The good news is those costs can be significantly reduced by targeting the same people on Facebook and Instagram. Here's how to do it.
Methodology
All LinkedIn members have a "contact info" section. By default, email and phone number of any LinkedIn member is visible to their direct connections (learn more). Most people never change this setting.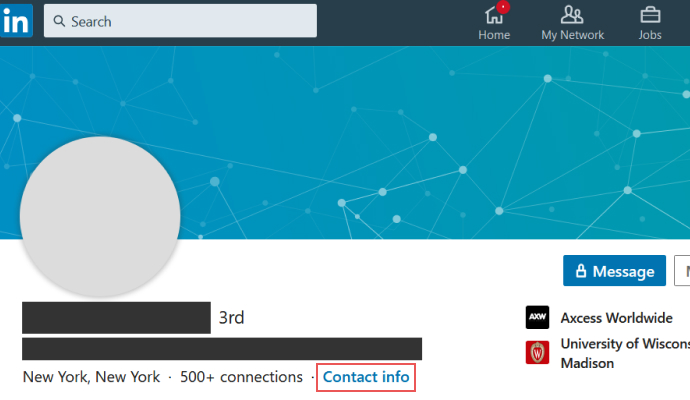 Most people also use the same personal email and phone number for both LinkedIn and Facebook accounts. We're going to take advantage of this insight.
Here's the plan:
First, we need to grow your LinkedIn network with new prospects. This can be automated.
Second, we need to scrape the emails and phone numbers of your LinkedIn connections. There's software for this too.
Third, we're going to use these emails and phone numbers to create a custom audience in Facebook Ad Manager and then run an ad campaign targeting that audience.
This tactic has a downside, only about 50% of the emails and phone numbers you scraped from LinkedIn can be connected with a Facebook account. That means a network of 1,000 targeted connections on LinkedIn gives about 500-600 prospects you can target through Facebook ads.
Step 1. Grow your LinkedIn network
There's several software options to automate the growth of your LinkedIn Network (e.g. Alfred ).
Such tools can send personalized connect invitations to a list of your prospects. Find the prospects via LinkedIn Search e.g. search for "Head of Marketing in New York" then copy the URL and give it to Alfred.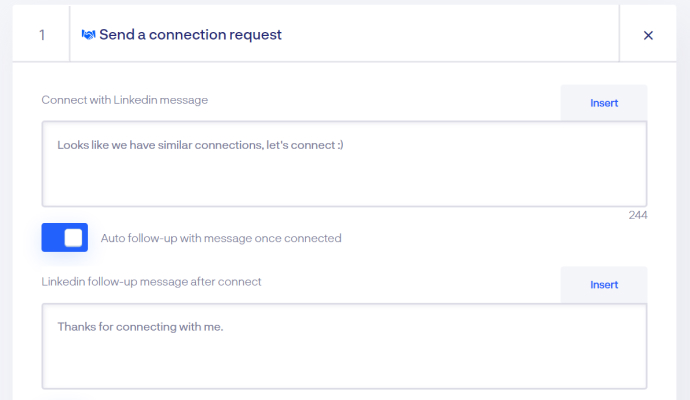 Step 2. Extract emails and phone numbers of your connections
Again, there must be a plenty of tools capable of scraping LinkedIn contact information. The one I'm going to mention here is called PhantomBuster . The recipe I recommended is called LinkedIn Personal Emails Extractor .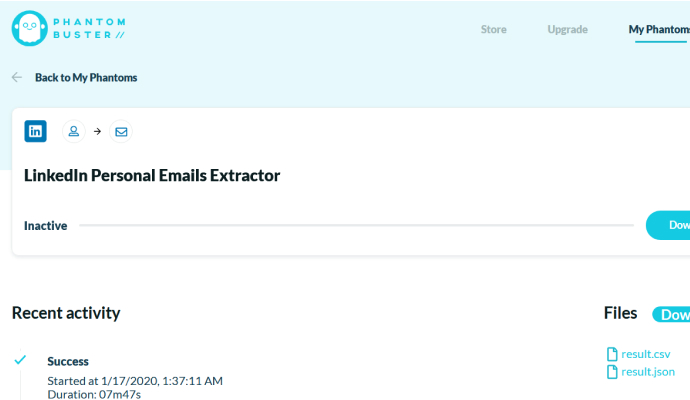 You're going to end up with a CSV file which you need to adjust before uploading it to Facebook. Use the following template to do so.
Step 3. Create a custom audience in Facebook Ad Manager
Go to Facebook Ad Manager → Audience → Create audience → Customer list. Upload the csv file you prepared earlier.
Step 4. Promote your business
Spend first few weeks warming up your prospects with your best content e.g. top-notch blog posts, case studies, and important media appearances.
Only after your prospects are well aware of how awesome you are try to carefully promote your value prop.
B2C businesses.
If you are a B2C business which struggles to find your target audience on Facebook but you can target your buyer personas through LinkedIn search then try this technique with one modification.
Go through the Steps 1-3 and then create a lookalike audience from the audience of LinkedIn prospects. This lookalike audience has decent chances of getting your best targeting option.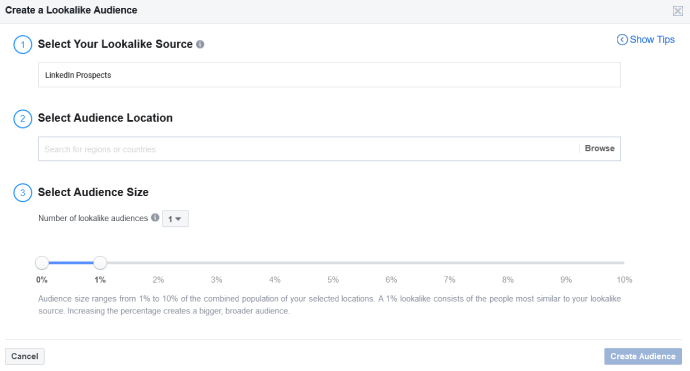 Legal concerns
This strategy might violate some data privacy laws (e.g. GDPR in Europe) so get proper legal advice before trying it.
&nbsp